Tory lead narrows further, UK hung parliament "looking likely"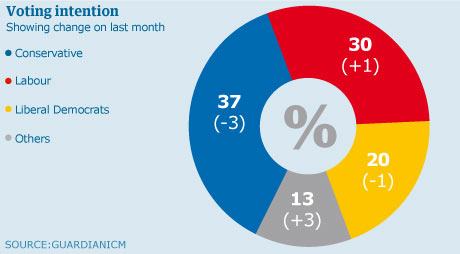 Allegations that Gordon Brown won't be winning any Boss Of The Year awards don't seem to have damaged Labour's chances of a recovery, according to latest opinion poll results.
In recent days the Tories' lead has tightened, making a hung parliament look fairly likely, two opinion polls showed.
// What is a hung parliament? When no single political party has a majority of MPs in the House of Commons. If this hapens, the Tories and Labour will seek to form a coalition with the Lib Dems, something which Nick Clegg has said he's not keen on. / /
A Guardian/ICM poll published today has support for the Tories down by 3 points, at 37%. Labour is up 1 point from last month to 30% and the Lib Dems fell 1 point to 20%.
A separate YouGov poll published by the Sun puts the Tories on 39%, Labour on 33% and the Lib Dems on 17%.
Does any of this mean Labour still have a chance of winning the election? The Conservatives are still the bookies favourite to win, by far, but after a crippling recession, hugely unpopular walls, bank bailouts and bonuses and a media backlash against Labour, the fact the Tories face a hung parliament suggests to me that the British public may have lost a lot of faith in politics in general. After all, does anybody really think the Conservative party would have acted any differently when it came to going to war or bailing the banks out? It can feel like a vote for one party is a vote for all in this country so perhaps the deciding factor for many voters will simply be how much they crave change, and whether change from a different party in government will be better than giving the present bunch another chance.
groups:

tags: