Election 2010: Is a Lib Dem vote a wasted one?
In the run up to the election I'm sure plenty of people will be asking themselves why they should even bother voting at all. You'd be forgiven for thinking that if Cameron gets in we'll face the prospect of having to hug a hoodie, National Service run by Michael Caine, and his Eton mates (With names like "Toppo" Todhunter) running the country. If Gordon Brown doesn't get evicted from No. 10 then it'll be another five years of misery and weird facial ticks. And of course there's always Nick Clegg - recently pictured sitting in his back garden having a nice biscuit and a cuppa with Ming Campbell. Snore.
Electoral reform is not something usually discussed much at election time - it's a bit like cooking a bad meal and blaming it on the saucepan. But this year, with opinion polls pointing to the prospect of a hung parliament and the need for cross-party collaboration-type-stuff, there's been a lot of talk of whether British politics is capable of (and might benefit from) a period of coalition government. Couple this with the upcoming U.S.-style TV debates giving the Lib Dems manifesto more media coverage, and the fact that disenchanted Labour voters might be drawn to Lib Dems policies, the prospect of a hung parliament is very much a reality.
Although hung parliaments are extremely unusual in our parliamentary system, if it does happen, the Lib Dems might well hold the balance of power. Clegg himself has been vague about the prospect of a power-sharing coalition with another party, saying it's up to the voters. Teaming up with either the Conservatives or Labour could prove toxic and reflect badly on the Lib Dems - or "crushed between the rock of Labour and the hard place of Cameron" as the Guardian puts it.
Currently in the UK we have a "first past the post" system of voting - to become an MP, all a candidate has to do is to gain more votes than any rival in that constituency - a candidate doesn't have to win a majority of the votes cast. The UK is divided up into 659 constituencies, each constituency elects a single MP and each voter casts a single ballot. The votes are added up and the candidate with the highest total is declared the winner and the party with the most MPs generally forms the new government. To paraphrase that annoying insurance sales-meerkat, simples, yes? Simplicity is one of the main benefits of this kind of system, along with the fact it's quick and decisive.
Critics of this system argue that MPs are often elected without an overall majority of all the votes cast. This means that most of the voters MPs are employed to represent don't actually want them. And then we get into the whole "wasted vote" thing - because of their electoral make-up, some seats are so "safe" for one party that supporters of any other group have only a meaningless vote.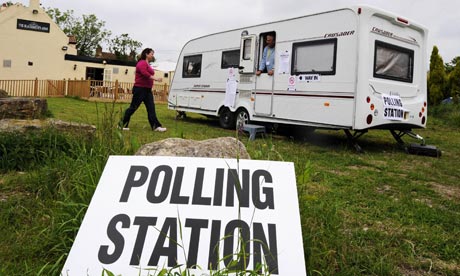 It has been argued that both Labour and the Tories have the most to lose from any changes to the first past the post system and why the Lib Dems have long advocated proportional representation. Supporters of the system claim it more clearly represents the wishes of the voters as expressed at the ballot box, fewer votes are "wasted", so greater participation may be encouraged.
Forms of proportional representation has been used in the UK a number of times, in elections for devolution in Wales, Scotland, Northern Ireland and in the London mayoral election. Critics argue that this kind of voting system is just as unrepresentative as first past the post - it could give disproportionate power to small parties. It also demands more knowledge of party beliefs and manifestos and greater effort on the part of the voters. It's a lot more complicated than picking up the phone and voting Geoff or Geoff off this week's X Factor. Of course, many would say that this would be a good thing, voters may welcome the opportunity to be better informed, feel more integral to the election and to exercise greater choice, so turnout may actually increase.
So, is a vote for the Lib Dems a wasted one, given the current voting system in the UK? It depends on whether you see the election as a national matter, or are more concerned about your local constituency. The national swing required to bring them to government is huge, but if you agree with your local Lib Dem MP, then it's not a wasted vote. Apathy is the only wasted vote.
groups:

tags: