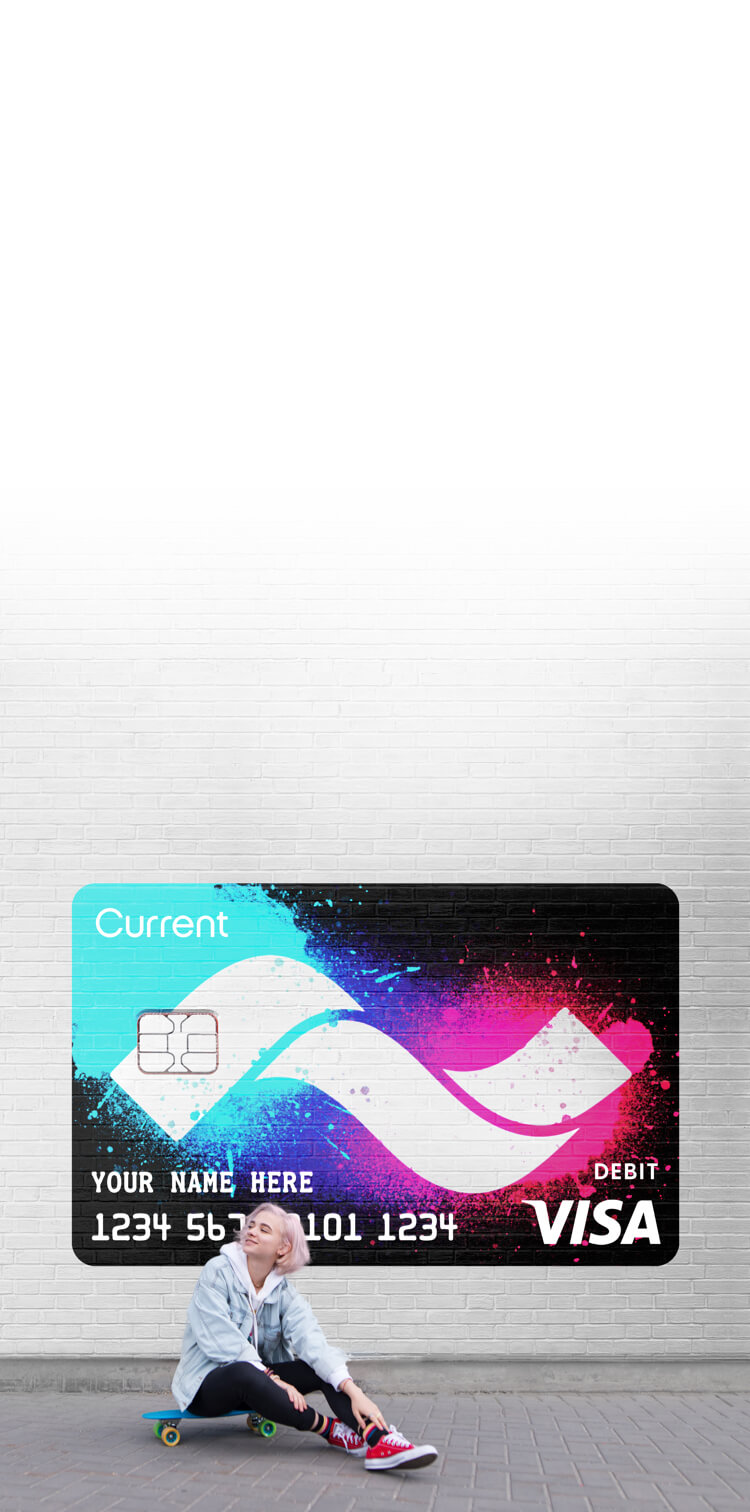 Visibility
with 24/7 notifications
Keep an eye on things (from a distance).
Reward
your teen for chores
Approve chores and other hard work
2
Connect your bank
Only deposits you authorize will be transferred from your bank.
3
Get your card in the mail
Your choice of white or black.
Slide 1 of 5
Kristen

"Kids LOVE being able to get their allowance on time each Friday and not have to wait for Mom and Dad to get cash to pay them."

Jeff

"It's the perfect balance of parenting control and financial freedom for young people … that's not only cool, it's pretty damn brilliant."

Jenny

"The ability to transfer money instantly has been the best part of it all, and it's slowly teaching our son about budgeting."

Amy

"My girls love being able to order online. When they are with friends they don't have to worry about cash and change. THANK YOU Current!!!"

Luby

"It gives me a peace of mind knowing that my kid has money to spend when he needs to."

Beck

"So far, my kids have saved money because they see their balance and goals and it makes them rethink that impulse buy"

Beth

"This will be my way of paying her for all the cash I've borrowed from her and I don't always have a chance to go to the ATM to get my own cash."

Jason

"My kids love the card and the freedom it gives them to do what they want and be able to save and buy things."

Donna

"I am so happy I can finally just transfer money to my daughter and she can learn to make a budget"

Meg

"My son has this, love it! Parental controls and a full itemized usage logs shows just where he uses it. Perfect!"

Jeff

"I dig that Current allows the teen to spend money … without me having to be involved at every turn, while still being able to keep a watchful eye"

Mo Jo

"I feel great knowing if they are out somewhere they are covered!"

Kai

"This is brilliant! Goodbye cash, hello Current."

Ana

"I am loving this. My kids have been working hard to earn their money and are learning to save"

Rosa

"Great way to teach my son financial responsibility. He'll be prepared when he becomes an adult!"
Pause or replace
your card inside the app
Protect against loss or theft of money in seconds.
Learn more about security
No hidden fees
Pay one price, with no surprises
Teens keep 100% of what they earn.
$36/yr.
per teen
Learn more about pricing
Get started now
Text yourself a download link